Trebor Scholz is a scholar-activist and founding director of the Institute for the Cooperative Digital Economy at The New School in New York City. In 2014, he introduced the concept of "platform cooperativism" as a way of bringing the co-op model into the digital economy.
Who Owns the World? brings together the global community around this work and marks ten years of the influential digital labor conferences at The New School. Scholz' books include Uber-Worked and Underpaid. How Workers Are Disrupting the Digital Economy, Digital Labor: The Internet as Playground and Factory, and the co-edited Ours to Hack and to Own: Platform Cooperativism. A New Vision for the Future of Work and a Fairer Internet.
The Latter includes for the first time in one volume, some of the most cogent thinkers and doers on the subject of the cooptation of the Internet, and how we can resist and reverse the process. The activists who have put together Ours to Hack and to Own argue for a new kind of online economy: platform cooperativism, which combines the rich heritage of cooperatives with the promise of 21st-century technologies, free from monopoly, exploitation, and surveillance.
Hello Trebor, could you give us a brief definition of what "cooperative" means to you?
A cooperative is defined as an autonomous association of persons united voluntarily to meet their common economic, social, and cultural needs and aspirations through a jointly-owned and democratically-controlled enterprise.
What have been the biggest challenges for you to bring these cooperative principles into the tech-world?
Solidarity. Participatory processes. Startup funding. Generalizable and scalable tech.
In Ours to Hack and to Own: The Rise of Platform Cooperativism, a new Vision for the Future of Work and a fairer Internet you describe that we have to manage to shape the labor market of the future in such a way that we deal with constantly better technology and ensure that employees do not fall by the wayside. How do you rate the chances for this movement in view of the current pandemic?
This is a cooperative, transformative moment. We have to find out what platform co-ops are good at and scale that benefit for people. Smart.coop is a good example. It is co-op specific, scalable, and generates tangible benefit for people. It does not destroy Uber or Google but it generates value in response to genuine needs. Platform co-ops are like the tools that come with IKEA furniture. They are good for a very specific task. We have to find those applications.
Lastly, I want to ask you the question we're looking at at Bobooki this month: Wie viel Trump wollen wir werden? (How much Trump do we want to become?)
I don't get the question. We kicked out the guy but live with 70 million fellow Americans who voted for him. What do we do with that knowledge?
Thank you very much!
---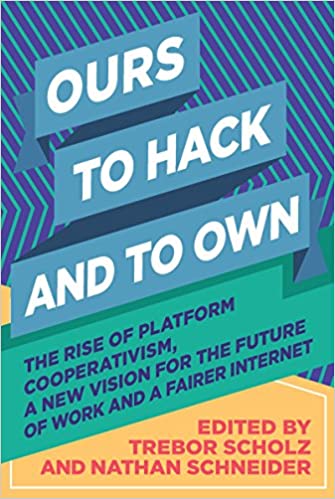 Trebor Scholz' "Ours to Hack and to Own" im Bobooki-Shop jetzt versandkostenfrei direkt zu Dir nach Hause bestellen!