What the book is about
The story narrates the struggles and fates of a handful of characters on and around the Dutch East Indies Company's trading post Dejima right off the bay of Nagasaki (Japan), starting in 1799. We chiefly follow the Dutch clerk Jacob de Zoet as he navigates his way around the foreign culture, corruption, homesickness, blossoming friendships, and rivalries. And in the midst of it all, de Zoet falls in love with Miss Aibagawa, a Japanese midwife studying with a certain Dr Marinus. We follow her fate as she is sent off against her will to the disquieting Lord Abbot Enomoto's shrine on Mount Shiranui. The shrine holds a dark secret, and within its confines, she tries to forge a place for herself.
What the book really is about
This book weaves together clashes at the level of cultures, at the level of groups of people, at the level of individuals, and at the level of values, goals, ambitions, dreams, and personalities – it captures the never-ending task of every human being to negotiate their own way through all of these struggles.
We see clashes of belief systems, of ambition and veracity, of cultural independence and colonial connectedness, of science and traditional beliefs, of systems and principles of sovereignty, of the cruelties of slavery and how frighteningly easy it is to go along with what counts as normal; clashes of dreams and realities, of one's personal goals and one's loyalties, one's ideals and the dark sides everyone has, of arrogance and humility, of struggling and of acceptance and of forging a place for oneself.
My verdict
Author David Mitchell – most well-known for his 2004 book Cloud Atlas – hardly ever suggests any easy answers or solutions for all these clashes and themes and I really appreciate that. What I love most, though, is the novel's rich down-to-earth melancholia about the way one's life turns out with time, through all the forces and influences out of one's control, including incalculable consequences of one's own actions and inactions. It offers a superb portrayal of the struggles one goes through in making the choices one has to make, or forever regret, to stay true to oneself. And finally, the novel beautifully drives home how we can ultimately only ever see and ascertain some of these things, and most of them in hindsight.
---
A little postscript: Mitchell's "The Bone Clocks," (2014) set in the same universe, should be read before this book as it makes sense of some of the happenings at Mount Shiranui Shrine, at least partly redeeming their otherwise uncomfortably orientalist vibes.
---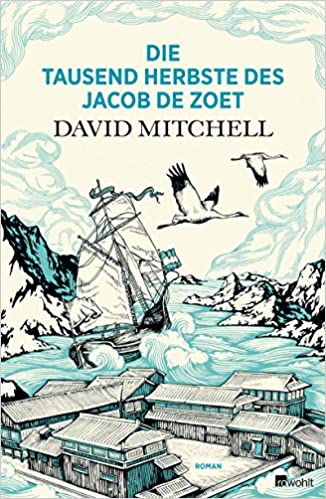 David Mitchells "Die Tausend Herbste des Jacob de Zoet" im Bobooki-Shop jetzt versandkostenfrei direkt zu Dir nach Hause bestellen!